Do you have a brilliant idea for a mobile app? A decade ago, you had to learn coding to develop a mobile app but thankfully nowadays you can create an app without a single line of code. With no-code app builders, you can design and build fully functional mobile apps using drag-and-drop tools. There are many platforms in the market that offer competitive features to help businesses of all sizes create mobile apps. If you're interested in no-code platforms, continue reading as we offer a fair comparison between the best mobile app builders in the market.
The best no-code app builders (Appy Pie, Thunkable, GoodBarber, Mobilzer)
Appy Pie
Appy pie is a suitable web and app maker for the business, education, entertainment, and healthcare industries. Appy Pie's progressive web app builder is easy to use, allowing you to build an app within 5 minutes and eliminating the need for any technical expertise. You can also build a native app that works on Android and iOS devices with Appy Pie.
Using pre-built templates you can customize the look and feel of the mobile app. When you make changes to your app, users can see them instantly in real-time without having to reinstall and update the app. With Appy Pie, you can also create workflow automation using a well-structured, no-code automation platform.
For the pricing, Appy Pie starts with a free version, after which you will need to upgrade to use all the features. The basic package is $16 per month and allows you to publish your app to Android devices only. In case you're facing any issues or need to contact the support team you can only contact them via email. For enterprise accounts, you will have a dedicated account manager that responds to your inquiries at any time.
Pros
User-friendly dashboard
They have many YouTube videos that explain most of the features
They have a text guide that uses AI technology to suggest what to write in the app sections.
Cons
Appy Pie has some limitations when it comes to designing a complicated dynamic app experience. It's not suitable
Customer support is not available all time unless you upgrade to enterprise accounts
Thunkable
With 50+design components, you can create a custom application on Thunkable without having to go deeper into the mobile development world. The design dashboard on Thunkable is quite advanced with a variety of animations and graphics. One of the cool features is that you can add sound effects to your application by uploading an MP3 file. For example, you can add a sound effect after a button is pressed or after a checkout is completed.
While all users are invited to join the Thunkable community to get support and share knowledge, they offer extra levels of support for each level of subscription. Business users get a dedicated account manager that is available 24/7 to provide solutions and support. Publishing your app to Google Play and App Store directly is also handled by Thunkable team but you will have to pay an extra $50 for that.
Thunkable has free, personal, and business plans. The personal plan starts from $13 per month while the business starts from $167 per month.
Pros
Creative interface and visually appealing templates
Cons
The dashboard is a bit complicated and it requires some time to figure out how it works
The platform only supports 2 languages: English and Chinese
GoodBarber
GoodBarber is one of the most versatile app builders with lots of features and design templates to choose from. With over 50 design templates, you can create beautifully designed themes to fit your brand's visual identity. GoodBarber also lets you create progressive web apps as they are more affordable than native ones and provide a seamless experience to customers.
It works best for; eCommerce apps, restaurants, delivery, broadcasting, digital products, and communication apps. There are also a lot of available integrations to meet your needs including Zapier, Shopify, Google Ad Manager, Google Tag Manager, Meta, PayPal, and others.
To publish your app to App Store or Google Play, you will have to pay $50 and GoodBarber's team can handle it for you. They also offer a 30-day free trial so you can try all the features for free for one month.
Pros
Great looking original templates
You can build responsive and mobile-friendly progressive web apps that are SEO optimized
Cons
There is a lot of negative feedback about their customer support
Mobilzer
Mobilzer was first launched to the market in 2020 to support small and medium-sized businesses to create their powerful progressive web apps. Mobilzer offers a wide variety of features to help you create eCommerce, restaurant, real estate, travel, and digital product apps. The unique selling proposition that Mobilzer offers is its easy-to-use dashboard which you can use to quickly set up your app.
If you're a small business, Mobilzer offers you the opportunity to compete with big brands by empowering you with tools to build mobile apps without the need to hire a team of developers and designers. You can customize your app's layout using pre-built templates without having to hire a UX designer. All your front-end elements are customizable including font, paragraphs, icons, and buttons. You can also create an "About us" page to add your basic business info, contact details, and location. Here's a step-by-step guide on how to set up an "About us" page with Mobilzer. 
Uploading videos and pictures are easy as Mobilzer has a content management system that allows you to upload all types of content including photos, maps, and podcasts.
The dashboard allows you to track your app analytics by displaying your number of orders and customers per month. For more detailed tracking, Mobilzer offers an integration with Google Analytics to get better insights into your app.
You can also reward your customers with personalized discounts. You can create a loyalty program and send incentives and rewards to your regular customers.
Communicating with your customers is possible via Mobilzer's WhatsApp integration. This helps you respond to customer inquiries and communicate with them directly via WhatsApp at any time of the day.
Pros
There are lots of features available on the basic plan
Unlimited storage even for the basic plan so you can upload as much data as you want
You can create your app in 6 different languages
Cons
To create native apps you need to upgrade to the pro plan
What customers are saying about Mobilzer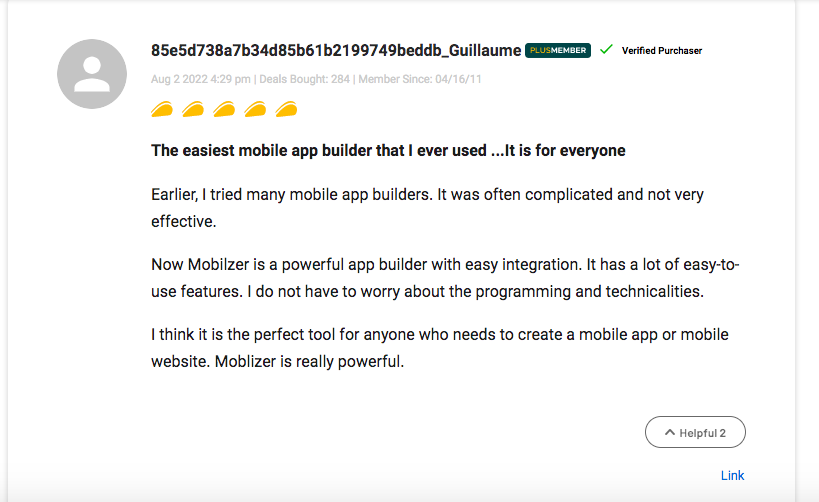 How to choose a plan that suits your business needs?
Building a no-code mobile app is fast and cheap. It takes about an hour to build a mobile app from scratch. If you're using Mobilzer, you have 3 pricing plans to choose from Starter, Basic, and Pro.
Mobilzer's starter plan starts at $29 per month and it's suitable if you want to build a progressive web app, sell an unlimited number of products and receive unlimited orders. You won't be able to create a native app with the starter plan but you can do it if you upgrade to the pro plan.
The basic plan which costs you $299 per year allows you to create a custom domain for your app, set up online payment via Stripe integration, and integrate with shipping and delivery couriers.
To be able to choose a subscription plan, you need to take some time to list the features you want. Check out our guide to choosing the suitable Mobilzer's package for your business.
Comparison of the features available in the starter package
Appy Pie

Thunkable

GoodBarber

Mobilzer

Best for

Digital Magazines, e-learning, broadcasting

Video games,

eCommerce,

Digital products, delivery, restaurants

eCommerce, real estate, restaurants, and digital products

Offline capabilities

✅

✅

✅

✅

Push notifications

The basic package offers 5K notifications

Unlimited

The standard plan offers 10K notifications

✅

Unlimited for all plans

Languages supported

Arabic, German, English, French, Italian, Portuguese, Spanish

English and Chinese

Arabic, Catalan, German, English, French, Italian, Portuguese, Spanish, Turkish

Arabic, English, Spanish, Urdu, French, and German

Native mobile app

✅

✅

✅

✅

Payment integration

Stripe

Offline payment

Stripe

*You need to build your own user management system

Stripe

Apply Pay

Offline payment

Stripe

PayPal

Apple Pay

Google Pay

Offline payment

Account manager

Yes

Yes

Yes

Yes

Price (Starter package)

$16/month

$13/month

35

$8